---
A member of the SSC Group
Aurora Technology
Space Engineering and Scientific Services
---
Expertise
Aurora Technology's core business activity is the provision of support for engineering and scientific services to the Space industry
Aurora is contributing to many key projects and missions for the European Space Agency. We provide a broad range of support, from individual experts to a complete service with a team larger than 20 staff. We summarise the main areas of:
---
Aurora was established in 1995
Aurora has more than 25 Years of Experience, everyone being profitable.
SSC celebrates 50 years in 2022
We congratulate SSC with 50 years of launching rockets, balloons and providing ground segment services.
Aurora is firmly established within the Space industry
providing a high level of service in the provision of engineering and scientific services.

Within the SSC group Aurora operates from the head office in The Netherlands and a Permanent Entity in Spain.
Since 2010 Aurora is owned by
LSE Space
which complements and increases our ability to provide quick and flexible solutions to our clients.
Aurora and LSE Space are part of the Engineering Service Division of the SSC Group (Swedish Space Corporation), a world wide organisation.
Employees are our key resource
We support them in order to progress their careers successfully.
We employ individuals with a high level of qualification and motivation who are also flexible in order to meet the challenges of the tasks to be performed.
Aurora encourage all staff to remain at the leading edge of the skills curve via a continuous training and education programme and combine this with a generous remuneration package.
Regular staff dialogues and feedback on ongoing assignments are part of the culture.
Aurora's strategy
is to be as effective and sustainable as possible by focussing on:
Clients
Developing good and stable long-term relationships with all our clients
Career
Offering staff interesting work opportunities and flexible work/life balance
Expertise
Having experts, getting involvement, training and motivating our personnel
Efficiency
Providing rapid response, direct communications, solution oriented
Aurora and LSE are part of the
---
Swedish Space Corporation (SSC) Group
---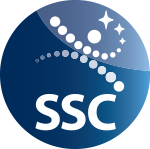 ---
---
SSC is a leading global provider of advanced space services. Initially pioneering scientific rocket launches in northern Sweden, SSC have grown into a full-service supplier of state-of-the-art space engineering, satellite and launch services to commercial and institutional customers worldwide.
SSC staff experience the adventure of working and living in an international environment.
The exposure to different cultural values and different societies means that the awareness and tolerance within the team is enhanced.
Becoming culturally intelligent is a key requirement for the success of our business in a professional as well as social context.
---
Do you want to become a customer or are you looking for collaborations?
---
Get in touch with us!
Or check our Contact page to access our address and contact details.
Latest News & Achievements
15th December 2020
It's the time in the year when we are proud to announce that we have been awarded with four 'Best
[…]
25th November 2020
Aurora growth Davide joined Aurora in November 2015 and has since been part of Aurora's great growth period, doubling the
[…]